I know this post is about 14 days too late. If you're like me, you've basically already forgotten that 2011 is still just weeks old (even though I keep writing 2010 instead of 2011). I'm still going to put up this new year's themed post anyway because I have enjoyed reading the responses over at sewmamasew.com. 
Looking back on the sewing scene of 2010, what trends stand out in your mind?
A couple things come to mind. First, I think of seeing lots of tutorials and ideas for "upcycling" and trying to cut back on how much we consume. I also think about seeing a wider variety of textile choices, such as voile, linen and velveteen, made by designers. I wish I had had more of a chance to splurge on these fabric choices.
What were some of your favorite things? (Trends, fabric collections, patterns, blogs? Whatever you really loved.)
I have loved seeing the beautiful designs being put out by Colette Patterns. I want to really develop the confidence to wear the type of vintage-modern styles that they are designing. 
What was your very favorite fabric collection or print?
I'm not a quilter (at least yet), so even though I love looking that the designer quilting cottons I don't use them often. For this reason, I can't say as if I have a favorite. I am just loving seeing more choices from these talented designers that would also be suitable for making clothing. 
What was the best thing you made in 2010.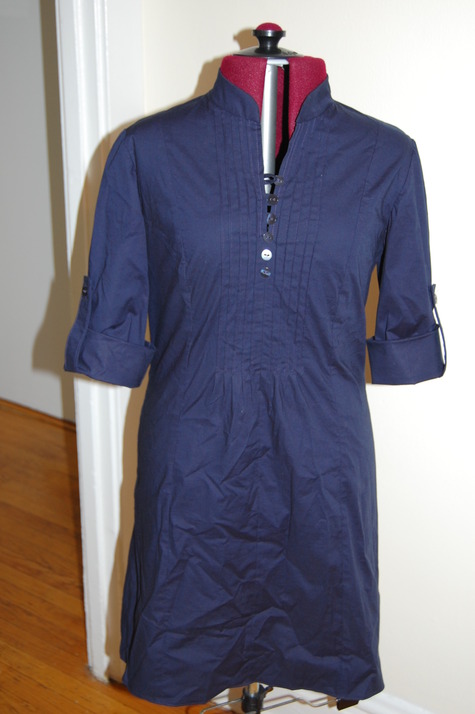 This navy dress/tunic is my favorite project from 2010. It is Simplicity 2365. It came together beautifully, it fits well, I learned a new technique and I enjoyed the whole process of making it. I can't ask for much more than that. (Sorry for the wrinkles. I couldn't wait to wear the dress. I took the picture after I had worn it and put it into the laundry basket. I was too lazy to iron it just for a picture.)
What is one of the best things you saw that was made by someone else?
I know the selfish seamstress has been on a bit of hiatus, but I always admire her handiwork. She has a lot of talent and a great sense of style. I don't even think I could pick a favorite amongst her work.
What do you think 2011 has in store?
For me, I hope it has plenty of time for sewing up all the beautiful things I can imagine!
Anything you're ready for the sewing world to get over?
Um, not that I can think of. I'm just so excited to see more and more people learning to sew and sharing what they're sewing. Sometimes I get overwhelmed with all the inspiration!
What's on your sewing agenda for 2011? What are you excited about? What would you like to learn more about?
Gosh, this is a tough one. I'm excited about learning and practicing more design skills. But there are also many other things that I am excited about. I get excited about each and every new project that I take on. And often I'm excited about a different aspect of each new project.